I am in full-blown Christmas spirit mode now that Thanksgiving is behind us. It truly is the most wonderful time of the year….
Today, I've got a small and simple piece of holiday decor that was inspired by one of my family's favorite Christmas tales: The Polar Express.
Keep reading to see the full tutorial, as well as 24 other holiday crafts/recipes based on classic festive films AND enter our giveaway!
Rustic 'Our Home Believes' Christmas Sign + GIVEAWAY & 25 Days of Christmas Movies Blog Hop!
My Inspiration: The Polar Express!
Like I mentioned, the movie that I was inspired by to create this sign is The Polar Express. My four-year-old is obsessed with all things train, so this was the perfect movie for me. I mean, we've only watched it (and read the book by the same name) at least 1.8 million times, just in the last year.
In case you're not familiar with this movie, here's a quick synopsis:
A young boy is starting to doubt that Santa Claus is real. On Christmas Eve, a magical train called The Polar Express, surprises him in front of his house. Once on board, he travels and has many adventures with other kids (and the amazing Tom Hanks) until they finally reach the North Pole and meet Mr. Claus himself.
The main themes of the story are being brave, trusting in others, and ultimately, believing in the magic of Christmas.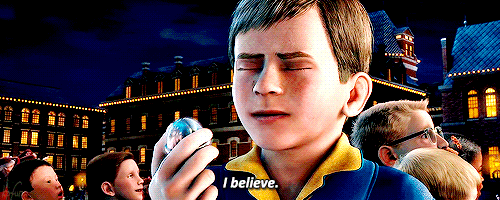 Supplies
Here's what I used for this cute little Christmas sign:
Wood board (roughly 5.5″ x 5.5″)
Paint brushes
Stencil cut out of stencil film with my Silhouette Cameo
Pine board cut to size with miter saw to make frame pieces
Piece of fine sand paper
Brown furniture wax, brush, & rag
My Design
Since I'd be cutting out a stencil with some Oramask 813 stencil film using my beloved Silhouette Cameo, I created my design in Silhouette Studio.
Here's how my mockup looked:
Since I know a lot of you are fellow font addicts like myself, here's some info about the font I used.
It's called typrighter and is just the coolest. With its seven variations of all the letters, it has a unique ruggedness with variations that look just like a real typewriter!


Powered by Creative Market
Painting the Board
I first painted one side of the board with some black paint. This was because I wanted the letters to remain black after applying and painting over my stencil with some white paint.
Plus, since I'd be distressing the whole sign after painting, this would help add a nice rustic feel with some dark spots showing through the white.
Cutting the Frame Pieces
While the black paint was drying, my husband and I headed out to the garage to cut the pieces for the frame. We used our miter saw and cut a thin (and cheap) pine board to size in no time.
And my husband loves any excuse to use a power tool.
Painting the Frame
Next up came painting the four frame pieces red. I wanted to have a traditional color to help people realize that this is a Christmas sign and we're talking about Santa here.
"Uhhhh, so what do you believe in? The Tooth Fairy? Big Foot? An honest politician?"
Cutting the Stencil
Now that the first layer of paint on the sign was dry, it was time to cut the stencil.
I pulled out my vinyl scraps organizer and found a perfectly sized piece of stencil film to use, then had my Silhouette Cameo cut it out in a jiffy.
Weeding the Stencil
After grabbing my trusty craft tweezers, I weeded (or removed) all of the excess stencil film, leaving only the letters.
See how cool and rugged the letters of this typrighter font look?? It's just the look I was going for with this project.
Applying the Stencil
After adding some clear transfer tape overtop, I applied the stencil to the center of the board using the trusty hinge method (which you can read more about here).
Adding the White Paint
Once all the letters were securely adhered to the board, it was onto the white paint!
I applied a couple light coats over the entire surface, letters and all.
Once the paint was mostly dry, I grabbed my craft tweezers again and removed all of the stencil film letters one by one.
Here's how all of the components of this sign looked after painting: Cute, but a little too perfect.
A Little Distressing
So it was time to get my distressing on! All it took was a piece of sand paper and a little elbow grease and my sign (and disassembled frame) was looking aged, rugged, and well-loved.
Adding Some Furniture Wax
In order to tone down the bright white and red paint colors (and to add an even more aged look), I then applied a light coat of some brown furniture wax.
I just love this stuff and use it all the time when making signs (and you can check them out here).
Assembling the Frame
Now it was finally time to assemble the frame pieces to the board and be finished with this sign!
We simply added some wood glue to the edges of the board and adhered the individual frame pieces one at a time, then allowed it all to dry.
While it's holding up well now, before packing it away come January, we're going to use our nail gun and add some nails too, just to make sure the frame pieces don't eventually pop off. We're not exactly the gentlest family when it comes to packing/unpacking….
The Completed Rustic 'Our Home Believes' Christmas Sign
And here's the final sign in all of its rustic, festive glory! Super cute, no?
I love how it's small, simple, and straight-forward. It's the perfect little addition to our holiday decor, and is a nod to my oldest's childhood obsession and one of our favorite holiday tales.
25 Days of Christmas Movies Blog Hop!
The Polar Express isn't the only festive movie you're in store for today!
Nope. Twenty four of my talented blogging buddies have gathered together with me to share some wonderful crafts and recipes that you can make this Christmas season, all based off of some of the most beloved holiday classic films.
All the faves are covered here: everything from Rudolph and Home Alone to Miracle on 34th Street and National Lampoon's Christmas Vacation.
So if you love Christmas movies (as well as crafts and recipes), you've come to the right place!
Let's Meet The Hosts!
Megan ~ C'mon Get Crafty || Erlene ~ My Pinterventures || Lindsay ~ seeLindsay || Marie ~ The Inspiration Vault || Maureen ~ Red Cottage Chronicles || Emily ~ Domestic Deadline || Stephanie ~ The Tip Toe Fairy || Rebecca ~ The Moments at Home || Michelle ~ Our Crafty Mom || Pam ~ P.S. I Love You Crafts || Sue ~ A Purdy Little House || Heather ~ The Busy Giffs || Erica ~ 5 Little Monsters || Valerie ~ Occasionally Crafty || Sara ~ The Holy Mess || Tina ~ Sweet and Salty Sisters || Sam ~ Raggedy Bits || Christine ~ Where The Smiles Have Been || Allie ~ Vigor it Out || Lyne ~ Lynn's Everyday Ideas || Evelin ~ Evey's Creations || Nina ~ Crazy for Cookies and More || Carrie ~ A Princess and Her Pirates || Jaclyn ~ The Dotted Nest || Kelley ~ Simply Inspired Meals
#ChristmasMoviesHop || #Christmas || #Christmascrafts || #Christmasrecipes
Now let's check out the rest of the amazing Christmas creations being shared! Check them all out to see if your favorite holiday movie is covered!
Giveaway Time!
Since it is the holiday season and we're in the giving spirit, my blogging buddies and I are also giving away $125 cash to one lucky reader!
To enter, just complete as many entries in the Rafflecopter widget below. Good luck!
a Rafflecopter giveaway
Merry Christmas!
From our home to yours, we (along with the help of Tom Hanks) are wishing you a very Merry Christmas!
If You Enjoyed This….
Make sure you check out some of my other Christmas projects, like these!
Thanks so much for stopping by! Merry Christmas!